"Catalonia is condemned to isolation"
Comments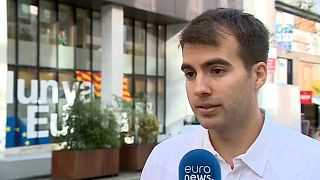 Catalan independence and direct control of Catalonia by Madrid – the dueling actions have set up a potential showdown. Euronews spoke to Alvaro Oleart, researcher at the Institute of European Studies at the Free University of Brussels:
"The unilateral declaration of independence is not really valid unless there is a country that recognizes it. This will not happen. Catalonia is condemned to isolation."
Friday's events were a major escalation of the Catalan crisis. The Spanish Senate basically stripped the Catalan government institutions of their power. What's next?
Oleart: "There is going to be resistance, for sure. It is very difficult to predict what is going to happen exactly, but of course the People's Party and the Spanish government are very unpopular in Catalonia, and that means that trying to govern Catalonia from Madrid is going to be very difficult. We saw it on October 1, the Spanish government was unable to prevent the referendum from happening."
That referendum was legally problematic, to put it mildly. Undeterred by the government's threat, and after a bitter debate, separatists in the Catalan Parliament passed a resolution to "create a Catalan republic as an independent state."
Oleart: "What is happening is that both sides, the Spanish government and the Catalan government, are forging ahead. These two players have become very polarizing because their respective bases of support are not favorable to a compromise."
For many Europeans, it is still not clear what happend and why. But Oleart says: It's not only Catalonia, it has happened elsew here.
Oleart: "I think that in Catalonia the rise of the independence movement has largely been caused by the austerity measures taken by the Catalan government, by the Spanish government and by the European Union. So even if there are elements of nationalism, we are seeing wide-spread discontent with austerity in Catalonia like elsewhere in Europe, such as in France with Marine le Pen or as in the United Kingdom with Brexit. From a European point of view, it is worth trying to understand why there are so many people that are showing their dissatisfaction with the current status quo."