New EU anti-terrorism measures unveiled
Comments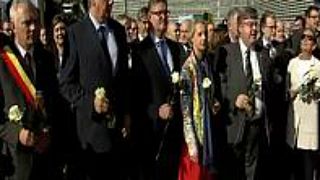 The European Commission has presented a new package of measures aimed at boosting protection, in the wake of the deadly attacks which have rocked the bloc.
It came as emergency service representatives joined together in Brussels to remember all of those killed and injured.
Terrorism in Europe shows no sign of abating, with the Head of MI5 in Britain warning just recently that the challenge is "intense."
"We have to accept that the terrorists don't stand still: they change and adapt their methods and we need to be ready to adapt our response," said EU Commissioner Julian King.
The EU proposals include stopping would-be attackers getting their hands on bomb-making ingredients, doing more to counter radicalisation and boosting protection around public spaces.
Euronews' Elena Cavallone reported: "Some Member States are already applying many of the measures being presented by the European Commission. With this package, the EU executive body wants to harmonize counter terrorism strategies within the EU, which in some cases remain fragmented."
Authorities are working hard to prevent a repeat of the terror that's killed and injured so many. But how much can they achieve, when the biggest threat is home-grown attackers?
In Brussels, there is a big focus on protecting those at risk of radicalisation, but it is not a case of one size fits all.
"it is very difficult to say that there are certian factors that lead us to say that: we detect A, so this person is probably going towards certain behaviour," explained Veerle Berx, from the BRAVVO prevention service.
"That's not the case, so we have to avoid any stereotype and we need to have an approach that is really adapted to the individuals and citizens that are sitting before us."