Kurdish referendum: should the EU fear independence?
Comments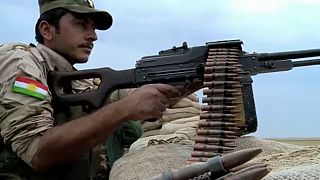 Why should the European Union be worried about independence for Iraq's Kurdish region? Speak to Kurds, and many say it should not be.
Ebubekir Isik, who researches the Kurdish issue, has been living in Brussels with his Turkish wife for around five years.
He is originally from Istanbul, but his family is from southeastern Turkey.
"We may see in the coming four to five years, an independent Kurdish state which is comparatively more democratic, more secular, a reliable alliance for the US and for Europe in the region," Isik told Euronews.
There is a sense of great expectation in the Kurdish region ahead of Monday, when the independence referendum is due to be held.
But Western powers fear it could break up Iraq and stir broader regional ethnic and sectarian conflict.
The EU has said the referendum is "counterproductive and must be avoided."
Kurds are the biggest allies of the West in the fight against ISIL though, both in Iraq and in Syria, where they are on the frontline.
They are feeling emboldened and entitled to independence.
"They consider the coalition led by the United States, and which includes almost the whole of Europe, has a debt with them," commented Marc Pierini, from Carnegie Europe.
"I don't believe that this translates into explicit support for independence, but rather diplomatic support for finding a solution."
Ebubekir highlights that Iraq's Kurdish region is also very rich in natural resources, something which has been a major source of instability for years.
"We have huge tremendous oil sources in the region, where Kurds are living," said Isik.
"The city of Kirkuk is one of the best examples of it, and that's one of the reasons why the Iraqi central government and in fact the KRG (Kurdish Regional Government) could not really reach an agreement over the disputed territories, which is one of the key challenges to any kind of dialogue between Erbil and Baghdad."
The Kurds have long accused Baghdad of withholding budget payments for the region, while Baghdad has opposed oil deals made without its consent.