Turkish foreign minister in Brussels amid protests over activists' arrests
Comments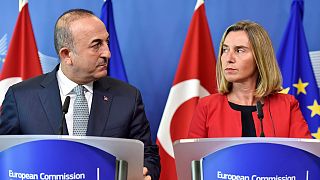 Turkey's foreign minister Mevlüt Çavuşoğlu met with EU foreign affairs High Representative Federica Mogherini on Tuesday, in Brussels. The pair discussed future relations during a time of great tension.
After the meeting, the pair addressed the assembled press.
Mogherini stressed the need for cooperation, saying: "As we have consistently done in the past we stress that our cooperation and dialogue need to be sustained by concrete positive steps in the areas of rule of law and fundamentals freedoms as well as in bilateral relations with each of the European Union member states".
The EU has been concerned with the rule of law in Turkey, since July 2016's failed coup and the government crackdown which followed, targeting the press.
But Çavuşoğlu told reporters: "It does not matter whether it is journalists or activists. If on one side you have journalists who do their job well, with freedom, and on the other side of the so-called journalists who support a terrorist organisations, you have to separate them".
Amnesty International Europe director John Dalhuisen explained why Amnesty led a protest outside the meeting.
"This is a defining moment for civil society in Turkey and its a defining moment for the international community in its relationship with Turkey. These relationship need to change and our colleagues the human rights community in Turkey they need to be released and they need to be supported", he said.
Despite Turkish ambitions of joining the EU being on hold for now, Çavuşoğlu stressed that many meetings with EU officials are planned for the coming months.