Is English really losing importance in Europe?
Comments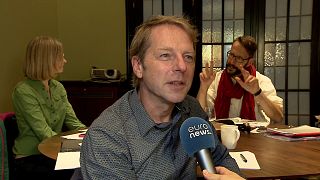 In May, European Commission president Jean-Claude Juncker declared that: "slowly but surely English is losing importance in Europe".
However, with Brexit negotiations now in full swing, language schools in Brussels are less certain.
Serge Langerock, a director of Berlitz says they expect English to be important, though there has been a drop in learners since the Brexit vote
"We do expect that English remains at the same level as it is today, but what we do expect is that the other languages become more important", he said.
Langerock added: "there is a drop in English for the moment, but we cannot say that this has a direct relation with, let's say, the environment, political environment related to Brexit".
But John Knagg, English language advisor at the British Council, told Euronews that the perception that negotiations are bad tempered is worrying, and could affect the desire of Europeans to learn English.
"The British Council's job is to be concerned about the friendly relations between Britain and other countries, not necessarily between the governments but between the peoples. And it's something we're concerned about, we shouldn't be taking this for granted", Knagg said.
But Knagg's concerns are unnecessary according to Wilfrid Huculak, a Belgian businessman who continues to learn English despite the vote by the UK to leave the EU.
Huculak told Euronews: "it's nothing to do with the Brexit. It's living in a professional world where you need English to communicate with other people".
Despite views expressed at the highest level by Juncker, it seems for now at least, the English language has a future in Brussels.