Russia urges US to return diplomatic assets
Comments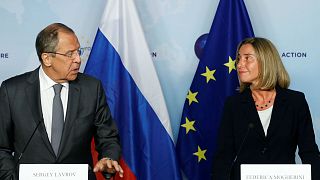 Russia says it will retaliate against the United States if it doesn't hand back two diplomatic compounds seized under the Obama administration, which also expelled thirty five diplomats back in January.
Moscow has been urging US President Donald Trump to return the assets.
The move was seen as a response to allegations of Russian interference in the election in November.
Speaking in Brussels, the Russian Foreign Minister Sergei Lavrov said: "We still hope that the United States as the country which always stands for the the rule of law will respect its international obligations."
"If it doesn't happen, if we see that Washington does not consider that such step is necessary, then of course, we will take retaliatory measures. This is a law of diplomacy the law of international life. Reciprocity is the basis of all relations"
But Lavrov declined to answer when asked if Russia would go ahead and expel US diplomats and seize diplomatic property.
The EU's foreign policy chief stressed the need to keep lines of communication open.
"It is clear we do not have same positions on everything, but our dialogue is constant and it's important and it is essential from our perspective to engage," said Federica Mogherini.