EU rejects Italian request to open ports to migrants
Comments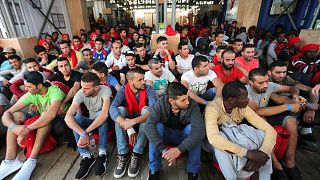 EU interior ministers have refused to support an Italian proposal to open up European ports to ships carrying migrants.
But governments did agree to help the Libyan coastguards do more and step up deportations of failed asylum-seekers.
"Returns in this case are being backed up by a common visa policy. That means that those countries, which don't comply with returns will have to face visa restrictions, by single EU countries, said Marco Minitti, Italian interior minister.
Italy plans to draw up a code of conduct for NGOs as some EU officials believe sea rescue services are a pull factor for would-be migrants.
"We abide by Humanitarian principles, by the principle of Humanitarian action, by Medical Ethics, by International Refugee Law and by International Maritime Law, because we operate at sea. So, we are quite clear about the frame in which we operate, and we doubt that a Code of Conduct will complement that," said Aurélie Ponthieu of Doctors Without Borders.
Italy had sought help, even at one point, threatening to close their ports to foreign humanitarian ships
Escaping wars and poverty, more than 360,000 refugees and migrants arrived on European shores across the Mediterranean last year. More than 85,000 have reached Italy so far this year.