Italy blocking migrant rescue ships - would it be illegal?
Comments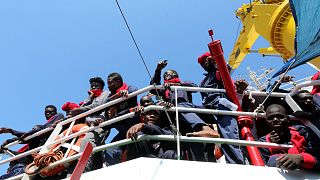 As Italy ramps up pressure on the EU to help with the influx of mostly African migrants, there is a warning that any move to block rescue ships would go against humanitarian laws.
Barring vessels, flying foreign flags, from returning to Italian ports, is apparently being considered.
"The argument of force majeure is irrelevant, and, in the end, refusing to allow such people to disembark would amount to inhuman or degrading treatment, which contravenes Article 3 of the European Convention for the Protection of Human Rights," Philippe De Bruycker, an expert at the Migration Policy Centre, told Euronews.
But, according to the same expert, the Italian government could go beyond political threats – and take a judicial line at the European Union level.
"It is high time that Italy makes its voice heard, not from a political point of view, but from a judicial point of view to remind the European Union, the Commission, the European Council, of their legal obligations in respect of European law," said De Bruycker.
He is referring to Article 80 of the EU Treaty, which points to "solidarity" and "fair sharing" of responsibility, including financial implications.
EU leaders agree that Italy should get more help to manage arrivals.
But EU Commissioner for Migration, Dimitris Avramopoulos, said: "Italy has to adopt the measures to speed up the procedures and manage migrants on its territory."
He continued: "We are ready to increase our support to Italy, including substantial financial support if need it. All member states now need to deliver and show solidarity towards Italy."
Italy's become the main European arrival point for mostly African migrants. Over half a million people have arrived by boat since 2014 and numbers are up so far this year.