NATO ready to hit back in cyber war, chief tells Euronews
Comments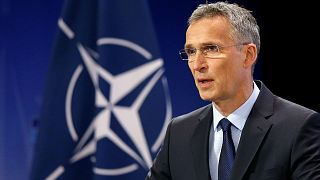 NATO says it is stepping up defences, as the latest cyber attack wreaks havoc around the globe.
Thousands of computers have been crippled by a virus thought to have first taken hold in Ukraine on Tuesday.
Ports from Mumbai to Los Angeles have been disrupted and production stopped at a chocolate factory in Australia.
"We are strengthening the cyber defences of both NATO networks, but also helping NATO allies to strengthen their cyber defences," Jens Stoltenberg, NATO Secretary General, told Euronews during a briefing in Brussels.
"(We are) looking into how we can integrate their capabilities. We have also decided that a cyber attack can trigger Article 5."
Article 5 is about collective defence, recognising that an attack on one is an attack on all.
The latest cyber strike has seen malicious code lock computers. It has demanded victims pay a ransom in bitcoins or lose their data entirely.
"In major armies and major organisations they try to avoid not patching, not putting up to date (upgrades), try to avoid using old systems. So probably this is a protection against this specific threat," commented expert Georges Ataya, from Informati.
Shipping giant Maersk – with a logistics unit in Ukraine – was one of the first global firms to be taken down.
Ukraine has repeatedly accused Russia of orchestrating attacks on its computer systems and critical power infrastructure, since the annexation of Crimea in 2014.
The Kremlin, which has consistently rejected the accusations, said on Wednesday that it had no information about the origin of the global cyber attack, which also struck Russian companies.