EU's Juncker faces tax questions from MEPs
Comments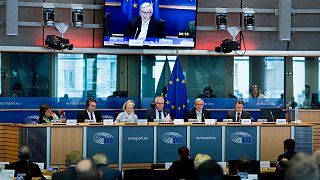 European Commission chief Jean Claude Juncker once again faced questions about Luxembourg's sweetheart tax deals with major firms on Tuesday.
The European Commission chief is the former prime minister of the country, where many big companies have decided to set up their European headquarters.
The Grand Duchy's fiscal dealing came under the spotlight after the LuxLeaks scandal that uncovered which firms had struck agreements for tax breaks there.
"He was the architect and the godfather of this cartel, you can see for example from when he took office, the so called tax rulings, which were big topic under the so-called Luxembourg leaks, exploded," said Fabio Di Masi, a left-wing MEP from Germany.
"So there is clearly a relationship and he met personally, and he basically advertised himself in election campaigns in Luxembourg by saying I was the one who attracted business here with our favourable tax environment."
Juncker says he never made any decisions on tax rulings in his last job and pointed to the Commission's work against tax avoidance.
"I would like this Commission's credibility to be measured by what we do today. It has rightly been pointed out that there has never been a Commission which has put forward as many initiatives concerning tax evasion and tax avoidance as ours: twelve altogether," he said.