Portugal exits EU's budget deficit watchlist
Comments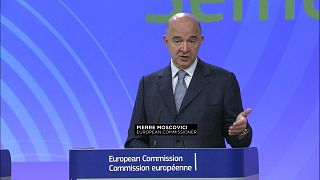 Portugal is no longer in breach of the EU's budget rules, officials say, which cap a country's deficit at three percent of gdp.
A budget deficit is when annual government spending exceeds the money coming in.
The news comes six years after an international bailout.
"This notion of having a more inclusive policy, and not just a short term vision that only sees cuts, is absolutely essential for the development of the Portuguese economy in the next decade," said Mário Centeno, Portuguese Finance Minister.
Portugal's budget deficit stands now at at two percent of GDP – an historic low for the country since it adopted the single currency.
Only four countries are part of the excessive deficit procedure "black list", reports euronews' Isabel Marques da Silva. They are France, Spain, Greece and United Kingdom.
Our correspondent says that the European Commission will focus its attention now on Portugal's public debt which is 130% of the GDP, more than double of the limit established by EU rules.