Hungary and Slovakia challenge EU's refugee quotas
Comments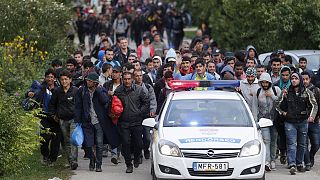 Hungary and Slovakia have told the European Union's top court that sharing out asylum-seekers among member-states in a quota system is unlawful. The dispute is putting pressure on relations with other member states and threatens serious division within the bloc.
During a hearing at the EU's Court of Justice, Hungary and Slovakia defended their refusal to take in asylum seekers, drawing a clear rebuke from Germany and others who stressed the need for European solidarity.
The country's leaders, Viktor Orban and Robert Fico, have sought to cast the quota system as an example of heavy-handed rule by remote bureaucrats in Brussels.
Many other EU states have also dragged their feet and only 18,119 out of a planned 160,000people have been relocated from Greece and Italy in more than a year-and-a-half under the plan, which expires in September.
Germany and other net contributors to the EU budget are increasingly upset that several eastern European nations are failing to help out even while they benefit from the bloc's generous development funds.
The tribunal's advocate general will present an opinion on the case on 26th July. It may be indicative of the final ruling that is expected this autumn.