European 'history house' opens this weekend
Comments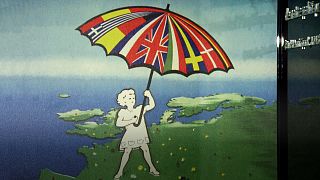 It was meant to have been open in 2014, but now the House of European History finally opens its doors to the public this weekend.
The museum reportedly has a price tag of some 56 million euros.
But those behind the project believe it can help promote what those in Brussels call a "European identity."
Hans-Gert Pottering, a former Austrian MEP, is one of those people.
"We have not to fight anymore, in the future, against each other. We need a peaceful Europe, unity in diversity and this House shows all this. That we belong together has Europeans ans I hope that the people will get a strong message from this House," said Pottering.
It features more than one thousand pieces borrowed form three hundred museums and focuses mainly on 20th century history.
The House of European History was first announced in 2007.
Members of the public will be able to take a look from Saturday May 6.