Austria pushes for exemption to stem asylum seekers
Comments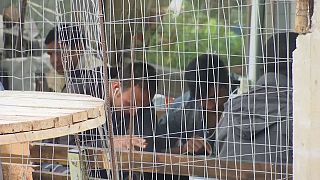 We've already taken in our fair share – the message from Austria, who says it is seeking an exemption from having to accept more asylum seekers under an EU relocation scheme.
It is a fresh blow to the system, which has barely been implemented because of opposition led by Eastern European countries.
"Austria has done much more than the average, which is undoubtedly the case," said Christian Kern, the Austrian Chancellor.
"Against this background, we do think that we have to look to get another exemption or a delay."
It comes as Austria's centrist coalition government tightens security and immigration rules – in the wake of a wave of arrivals, which has helped fuel a rise in support for the far-right Freedom Party.
The European Commission is talking tough about the exemption move.
"Austria benefitted from a temporary exemption from the relocation decisions this has since expired, and meaning that Austria is now expected to fulfil its legal obligation under the council decisions to start relocating," said Natasha Bertaud, a Commission spokesperson.
"Of course no country can unilaterally withdraw from a legally binding council's decision, we can only choose to act outside of law which we will find both deeply regrettable and not without consequences."
Less than 15,000 asylum seekers have been relocated from Greece and Italy – the two year EU scheme was supposed to cover 160,000 people and expires in September.
Meanwhile, Hungary's being told that it must ensure its new policy of detaining migrants on its borders does not break EU rules on protecting people in need of asylum.
The leading European Commissioner says the government has agreed to work with EU experts on the new legislation – which sees migrants held in camps while their asylum requests are processed.