EU Summit: 'The times, they are a' changing'
Comments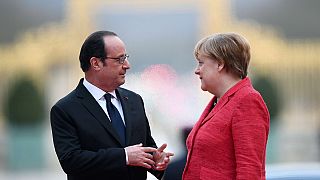 A key topic of this week's EU Summit in Brussels is set to be plans for the next Summit, which will mark the 60th anniversary of the Treaty of Rome.
60th anniversary of Rome's Treaty will be a moment for reflection & unity, but also to set the direction of the EU for the decade to come

— Donald Tusk (@eucopresident) March 8, 2017
The EU's future
But, rather than commemorating the EU's unity, this week's summit appears likely to be overshadowed by deep questions over its future.
The leaders of France, Germany, Italy and Spain met earlier this week for a mini summit in Versailles where the topic of a two-track or multi-speed EU was discussed ahead of the Rome event, during which it will be debated on a wider level.
Two-speed Europe highlights East-West divide https://t.co/R7hmewedYXpic.twitter.com/ZmLWNrmwFY

—

EURACTIV

(@Euractiv) March 8, 2017
EU-UK's future
Whether EU leaders want it at the top of the agenda or not, Brexit will permeate through this week's Brussels gathering. If British Prime Minister Theresa May sticks to her timetable of triggering Article 50 by the end of the month, this summit will be the last before the official Brexit process begins.
But the House of Lords is not making her life easy – voting on Tuesday to amend the legislation that authorises the UK government to trigger the withdrawal process.
In its largest vote on record #HouseofLords votes to give Parliament approval of negotiated deal, catch up https://t.co/aYlGIfRLSYpic.twitter.com/qYePCD5Xii

— House of Lords (@UKHouseofLords) March 8, 2017
Tusk's future
Somebody else not having an easy ride this week: President of the European Council Donald Tusk, who wants to stay on. Although Tusk is a former prime minister of Poland, Warsaw has decided put forward a different candidate for the top job, creating a tricky diplomatic row.