EU eyes more money to process refugees in Africa
Comments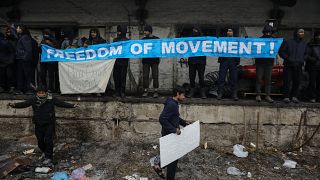 EU interior ministers want to spend more money on camps in Africa so refugees and migrants can be processed there.
Governments hope it will dissuade them from trying to cross the Mediterranean to Europe.
"The people taken up by the smugglers need to be saved and brought to a safe place, but then from this safe place outside Europe we would bring into Europe only those who require protection," German Interior Minister Thomas De Maziere said in the Maltese capital Valletta where the EU ministers were debating the possible ways to end the crisis.
The camps in Libya or its neighbours would be run by the UN refugee agency UNHCR or the International Organization for Migration (IOM), which would screen the people and help return those not eligible for asylum to their home countries.
Southern EU nations have borne the brunt of the influx. Half of those migrants who arrived in Italy last year applied for asylum there, roughly some 90,000 people.
That's why a relocation system was agreed using quotas. But just 11,000 of a 160,000 target have been moved from Greece and Italy.
EU officials hoped to achieve that by September. The move was thrashed out after over a million migrants and refugees arrived in Europe in 2015, sparking concern amongst policymakers.