EU officials propose extension of border checks
Comments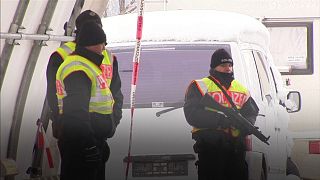 EU officials say Schengen border checks should be extended by three months when they expire next month.
They were brought back after an influx of refugees and migrants in 2015.
Schengen is a passport free travel area that includes twenty two EU member states
The European Commission proposal will need the approval of EU governments.
"We shouldn't forget that right now 60 thousand people are stranded in Greece all along the so called Balkans route and their relocation does not work. we are confronted with very objective problems and this is what we take into consideration when we make a decision and we propose what we proposed today," Dimitri Avramopoulos, the EU migration commissioner, told reporters.
Pro-EU politicians say that a Schengen zone free of any border or customs checks is key to boosting economic growth.
Eurosceptics argue that it weakens security across the entire bloc.
"It's a very negative message to the citizens, it causes an economic damage and it's very contradictory and very paradoxical on one hand to speak as a commission, we want to fully restore back Schengen as one of the greatest achievements of the EU, and on the other hand to act completely different," said Tanja Fajon, a Slovenian MEP, said in an interview with euronews.
But EU governments have also been tightening asylum rules after failing to agree on how to cope with the flow of migrants.