Schulz eyes bid to become German Chancellor
Comments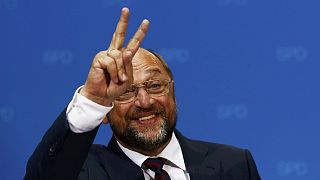 Former European parliament president Martin Schulz looks set to be the Social Democrat candidate for German Chancellor.
The SPD's current leader, economy minister Sigmar Gabriel, says he will not stand against Angela Merkel.
He has long said that he plans a return to domestic politics.
Merkel is running for a fourth term as chancellor.
She is tipped as the favourite to win.
But voters could still return the SPD to government as a part of a grand coalition.
That would leave Schulz in a good position for a top job.
The 61-year-old used his time as parliament president to raise the body's profile on the international stage.
Last week, he was in Davos at the World Economic Forum holding a series of talks with European leaders.