Tajani leads in EP president race
Comments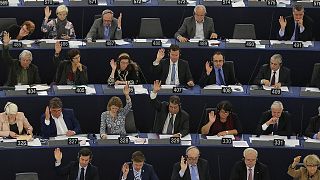 Italian MEP Antonio Tajani currently leads in the race to become head of the European Parliament.
The centre-right political beat his centre-left Gianni Pittella by 274 votes to 183 in the first round.
Tajani earlier struck a deal with Liberal candidate Guy Verhofstadt, who pulled out at the last minute.
It means Liberals MEPs will back the former EU commissioner for the job.
The head of the European Parliament actually has little in the way of real power – it is a largely ceremonial post.
But the holder represents MEPs on the international stage by appearing at EU summits or other major events.
Martin Schulz, the current parliament speaker, is quitting after five years in the job.
He plans to return to Germany where he will re-enter domestic politics.