LuxLeaks tax whistleblowers appear in court to appeal convictions
Comments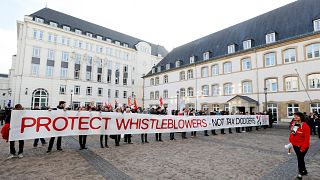 Dozens of campaigners are in Luxembourg to call for the protection of whistleblowers.
It comes as the men who exposed the LuxLeaks scandal, appear in court to appeal against their convictions earlier this year for violating confidentiality agreements.
In June, a court in Luxembourg sentenced both Antoine Deltour to a 12 month suspended prison sentence and a €1500 fine, and Raphaël Halet to a nine month suspended prison sentence and a €1000 fine.
The pair were former employees of accountancy firm PwC, which brokered secret Luxembourg tax rulings – also known as 'sweetheart-deals' to help firms avoid billions in taxes.
The journalist Edouard Perrin was acquitted, but the decision was appealed by the public prosecutor in Luxembourg.
"The original sentences of Mr Deltour and Mr Halet were a total disgrace, and we want this injustice to stop," said Tove Ryding, a tax justice coordinator at the European Network on Debt and Development.
"You shouldn't have to go to court for exposing the fact that multinational corporations are dodging taxes," she added.
Prosecutors initially sought 18-month prison sentences for both whistleblowers and a fine for Perrin.
The LuxLeaks scandal exposed the secret tax arrangements of 340 corporations, which enabled them to lower their tax payments, in some cases to less than 1 percent.