NATO, EU agree cooperation deals
Comments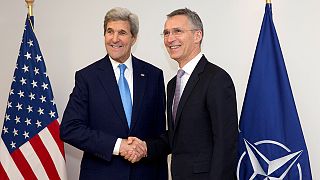 NATO and the EU struck a series of cooperation agreements on Tuesday, the alliance's secretary-general Jens Stoltenberg said.
The alliance's foreign ministers met for the first time after the election of Donald Trump as US president, who has cast doubt over whether his administration would honour the country's NATO obligations.
"Questions have been asked with respect to the strength of the transatlantic bond," Stoltenberg told reporters.
"I think the best way to respond to those questions is to deliver stronger NATO-EU cooperation," he said.
The former Norwegian prime minister spoke to Trump by phone two weeks ago and said he was "absolutely confident" that the incoming commander-in-chief would continue to support NATO.
The US, which accounts for nearly 70 percent of NATO members' combined annual defense expenditure, has long pressed its allies to contribute much more.
Fewer than half a dozen of NATO's 22 EU members spend the alliance's agreed-upon target of 2 percent of gross domestic product on defense annually.
"This is not sustainable," said Bruno Lete of the German Marshall Fund of the United States, a foreign policy think-tank. "Washington wants Europe to take care of its own backyard and it is not matter weather it's a Democrat or a Republican at the White House. This trend is there to stay."