The big power plan - EU aims to cut energy use by 30 percent
Comments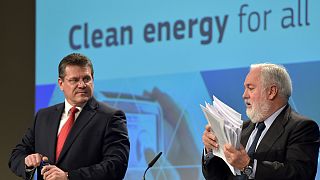 The European Commission has unveiled its big power plan, aiming to slash energy use in the bloc by 30 percent by 2030.
Cutting waste, better integrating renewables and phasing out subsidies for coal-fired electricity generation are all part of the vision.
But wind and solar energy producers will no longer have priority for selling to the grid, in places where renewables already have a large share.
Campaigners have been warning against that, claiming it risks slowing progress. They have also called for more ambitious energy efficiency targets.
#CleanEnergyEU: "We are particularly proud of the binding 30% energy efficiency target…" | All documents: https://t.co/na7dXqOX5cpic.twitter.com/WSwFBv00qS

— European Commission (@EU_Commission) 30 November 2016
The EU is aiming to cut greenhouse gas emissions by 40 percent compared to 1990 levels. It wants renewables to make up at least 27 percent of the power mix by 2030.
As part of the plan, regional centres are proposed to improve cooperation among grid operators.
But all of this still needs to be approved by member states and the European Parliament.
"Designed for polluting power companies, not for European citizens". Our comment on the '#CleanEnergyEU' plans: https://t.co/h3rP6wC9WJ

— Greenpeace EU (@GreenpeaceEU) 30 November 2016