Turkish officers seeking asylum after coup, says NATO chief
Comments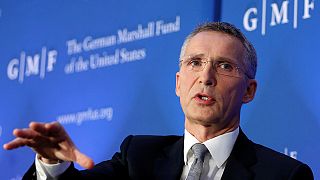 Some Turkish officers posted to NATO have sought asylum since July's failed coup, the head of alliance said on Friday.
But Jens Stoltenberg declined to comment on which countries were concerned, or how many officers have requested protection.
Ankara launched a crackdown after the military-led coup, detaining and jailing thousands of people.
The former Norwegian prime minister is set to travel to the country on Sunday.
"We have seen some examples of some officers requesting asylum," Stoltenberg said in an interview with euronews.
"My main focus is to make sure that we have officers filling the different posts in the NATO command structure. When it comes to the question of asylum that is something that the different nations where the officers are seeking have to address, assess and make decisions on," he added.
Eight Turkish officers fled to Greece shortly after the coup.
They are all trying to seek asylum there and the legal process is ongoing.
Their lawyers argue they will not receive a fair trial back in Turkey.
Amnesty International has said it has "credible evidence" of the abuse and torture of people detained since the attempted ousting of the government.
Those claims have been vigorously denied by Ankara.