Europe frets over Trump's NATO stance
Comments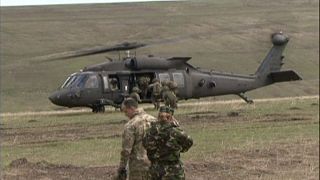 Europeans are fretting over what Donald Trump's election as US president could mean for the United States' commitment to NATO.
As results came in during the early hours of Wednesday, US diplomats insisted there would be no change to transatlantic ties.
In June, Trump declined to say whether he would help fellow members if attacked, saying many nations were not paying their way.
Collective defence is the cornerstone of the NATO military alliance and the West's global security architecture.
"We would like to know how things will proceed with global trade policy," said European Commission chief Jean-Claude Juncker in Berlin.
"We would like to know what intentions he has regarding the (NATO) alliance. We must know what climate policies he intends to pursue. This must be cleared up in the next few months."
Foreign policy observers say there will be no big decisions until the NATO summit in the Spring.
"The Trump administration in particular know that they are in a reasonably strong negotiating position when that debate starts in the next NATO Summit in Brussels in the spring 2017," said Alexander Mattelaer, Assistant Director of the IES, European Foreign and Security Policy
"So, I would expect that this would be a very hard and tough negotiating process."
NATO chief Jens Stoltenberg said on Wednesday that "all allies have made a solemn commitment to defend each other. This is something which is unconditional and absolute."
"NATO's security guarantees are important for Europe, but they are also important for the United States", he said.