Thousands march in Brussels against free trade deals
Comments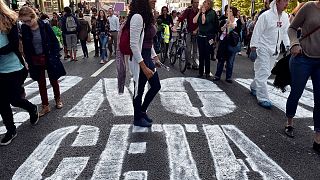 Thousands of protesters have marched through Brussels to demonstrate against two planned free trade deals.
The EU is set to finalise a trade pact with Canada, known as CETA, and it is holding ongoing talks with the United States over a similar deal, dubbed TTIP
Anti-free trade groups say the deals serve only the interests of major multinationals and will lead to weakening of consumer standards and labour laws.
Supporters counter that free trade helps jobs and growth.
"Medicine can be very expensive, more expensive if we accept the TTIP. Maybe it's better for the business but for the people it's not good," said one protester.
"The question that we must ask ourselves is: are we ready to sacrifice our quality of life for some percent of growth? Can't we think about other solutions that will create jobs, especially for young people," said one Belgian student taking part in the demonstration.
Organisers said as many as 15,000 people took part in the rally; police put attendance at the much lower number of 6,000.
The EU-Canada free trade deal must still be approved by the European Parliament and member states.
Talks between the EU and the US over that agreement have faltered; the European Commission said on Tuesday that not a single chapter has been closed.
Public opinion against these two deals is raging on, reports euronews correspondent Efi Koutsokosta.
She says that a recent survey in France found seven in ten people consider them to be "dangerous",while according to the Commission's Eurobarometer their approval fell 20 percent in Austria and 26 percent in Germany.