Hungary should be kicked out of the EU, says Luxembourg minister
Comments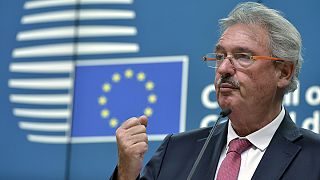 The European Union should show Hungary the door as its anti-migrant policies and razor-wire fences will undermine its values, says Luxembourg's Foreign Minister Jean Asselborn.
The minister put diplomacy to one side to speak out against the policies of Viktor Orban's government.
"Anyone, like Hungary, who builds fences against war refugees, or breaches press freedom and the independence of the justice system, should be temporarily, or if needed, forever, excluded from the EU," Asselborn said in an interview with Germany's Die Welt newspaper.
The EU should not tolerate such behaviour, and exclusion was "the only possibility to preserve the integrity and values of the European Union", Asselborn said.
He went on to say it would be useful to change the rules to allow a country to be suspended without unanimous agreement.
Asselborn said humans fleeing war were being treated worse than wild animals:
"The fence that Hungary is building to keep out refugees is getting longer. Hungary is not far from issuing an order to shoot refugees."
Hungary's foreign minister hit back. Speaking on news website Index.hu, he said: "The comments are strange, coming from Luxembourg, the home of 'tax optimisation' and Jean-Claude Juncker [EU Commission President], who also talks about burden-sharing," Mr Szijjarto said.
"But we all know that simply means making Hungary bear the burden of others' mistakes. The Hungarian government refuses — the Hungarian people will give their opinion on October 2 [in a referendum]."