Merkel, Hollande and Renzi celebrate Europe in mini-summit after Brexit blow
Comments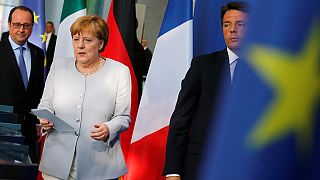 The leaders of France, Germany and Italy are meeting on Monday to discuss how the European Union can best bounce back in the wake of Britain's Brexit vote.
Italian Prime Minister Matteo Renzi is hosting French President Francois Hollande and German Chancellor Angela Merkel for the trio's second such mini-summit since the shock referendum result in June.
Other challenges on the agenda include Europe's migration crisis. The leaders will give a closing news conference on the Italian aircraft carrier, the Garibaldi, which is deployed as part of the EU's naval operation in the Mediterranean.
All at sea? Europe's powerhouses meet on an aircraft carrier to discuss #Brexit plans https://t.co/YpynTIE6Zqpic.twitter.com/wwCHAxU3QB

— Bloomberg Economics (@economics) 22 août 2016
Disagreements on how to handle the flow of migrants who have poured into Europe over the past three years have laid bare divisions between member states.
Italy, the main entry point for Africans but rarely their planned destination, is struggling to house migrants turned back from neighbouring countries including France, and has disagreed with Germany over how to finance the response.
Emboldened by the Brexit vote, Hungary's Prime Minister Viktor Orban has called a referendum on Oct. 2 on whether to accept any future EU migrant settlement quotas as his government steps up its fight against the EU's migration policies.
The venue for Monday's three-way summit is the tiny island of Ventotene off the coast of Naples.
It is a hugely symbolic choice as Ventotene is where two Italian intellectuals, imprisoned during the Second World War, wrote an influential manifesto calling for European political unification.
One of the two, Altiero Spinelli, is buried on the island and the three leaders will lay a wreath on his tomb.
Ventotene summit to chart roadmap for EU's response to Brexit vote https://t.co/GrDsBLfFjs

— The Guardian (@guardian) 21 août 2016
Monday's meeting comes ahead of September's EU summit called to discuss reverberations from the Brexit result.
Officials in Brussels and Berlin fear Britain's June 23 vote could lead to a referendum in the Netherlands – a founding member of the union – on whether to also leave the bloc.
"The goal must first of all be to preserve the status quo and to prevent a further disintegration of the EU-27," said one EU diplomat.
For Merkel, it will be the beginning of a whirlwind week of meetings with other European governments that will see her travel to four countries and receive leaders from another eight.