Sexual harassment on the streets of Portugal
Comments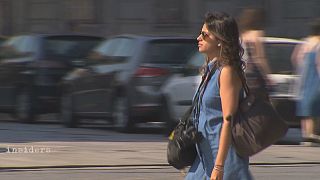 In Porto, Portugal's second largest city, it is not difficult to find women who complain about being harrassed on the streets.
It is a semi-public crime for which you need to file a complaint and most people aren't aware that the formulation of proposals with sexual content is a crime.
They tell us: "Come for a ride with us". Or insult us, saying you're hot. Things like that and this is really uncomfortable," said one young woman.
"You're hot! You can't imagine what I could do to you. Unfortunately, all women have already heard that," said another.
"A man much older than me told me: Come here! You're hot! Join me! And I started running, because I felt afraid," complained another.
"I feel a bit dirty, because no one likes to be spoke to in that way by someone we don't know. And when we're harassed by older men it's even worse. It's disgusting! We could be their daughters or even grand-daughters," explained another woman.
Portuguese Penal Code
The women we spoke to were harassed in the past few months, even if article 170 of the Portuguese Penal Code pertaining to sexual harassment was amended one year ago, in order to include sexual verbal abuse.
From now on verbalising proposals of a sexual nature is punishable by a jail sentence of up to a year, community service or a penalty fine.
But how can verbal abuse be proved and therefore the new law enforced? We asked an expert in criminal law, professor André Lamas Leite.
"We will have to prove, in order to get a conviction with this crime, that, firstly, the victim was affected by that offer, proposal. Secondly, that there was a proposal with sexual content. If someone says that a woman is pretty or makes a compliment about any part of the body of that woman, that is not formulation of a proposal with sexual content," said professor André Lamas Leite.
But the women we met hadn't heard of the amendment to the law.
"I think people should have more information [about the law]. I don't know if that info reached everyone. Not me. I didn't know about it," one woman told Euronews.
Catcalling goes unabated in Portugal but comments are not criminalised by the law since their content is considered not overtly sexual.
"There's no problem about making these comments. It's a compliment. I don't think it's a crime," one construction worker said.
Another issue is that the amendment was not properly explained to the public. Several Portuguese media said that "vulgar" flirtatious comment had been criminalised. Based on that false information, social media made fun of the law change. Several jurists also criticised the amendment but this criminal law professor considers it was necessary, even if he has doubts about its enforcement.
"I don't foresee many convictions in relation to this crime for two reasons. First, it is a semi-public crime for which you need to file a complaint and most people aren't aware that the formulation of proposals with sexual content is a crime. Therefore, often, they see it as a flirtatious comment, as a compliment," said professor Lamas Leite.
Euronews asked the authorities if they have already received complaints for this crime, but they told us they couldn't provide this data, as the numbers refer to all sexual harassment cases and not only sexual verbal abuse.
The rights organisation, Alternative and Answer Women Union or "UMAR": http://assediosexual.umarfeminismos.org/, was the first to defend the criminalisation of sexual verbal abuse in Portugal back in 2011. It believes the amendment is not enough. Its activists would like all forms of sexual harassment to be addressed in one single law and not covered in several articles of the Penal Code and Labour Law.
This amendment is not enough to protect the victims, in terms of crime proof. So, we defend the criminalization of sexual harassment in public spaces and at workplace.
Conscious that amending the law won't be enough only to change mentalities and behaviour, UMAR has been working with schools since 2008 to educate children about gender violence.
Tatiana Mendes is an activist for UMAR:
"To work these subjects with young people at schools we use art as a pedagogic tool, because this way we can involve emotionally the young people and it's easier to achieve changes in their behavior and attitudes."
Activists say they have observed a positive change in behaviour and attitudes towards gender violence in 13% of students aged 12 to 18.
Live updates from our Insiders team