Sexual harassment at work - breaking the silence
Comments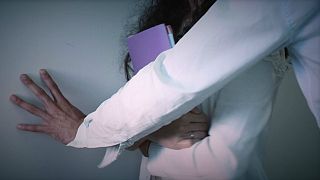 Allegations against a high-ranking member of France's Green Party have once again shone the spotlight on sexual harassment in the workplace.
There were threats, physical touching, kissing me, asking me to sleep with him
Thirteen women have accused Denis Baupin of sexual harassment, from explicit text messages to physical aggression. Some were allegedly threatened about their job.
Baupin, who has resigned as vice-president of France's general assembly, denies all the allegations.
Alleged victim speaks out
"There were text messages, over a period of several months, that were very explicit, sexually provocative, that I didn't want, that I wasn't interested in. I told him several times but he wouldn't listen," said Elen Debost, who claims she was harassed by Baupin five years ago.
Debost, a member of France's Green party and the deputy mayor of Le Mans, has filed an official complaint along with two others.
It is claimed, for months, Baupin sent her explicit sexual text messages.
Debost kept quiet until she saw a photo of him wearing lipstick on International Women's Day – a sign of support in defending women against violence.
"When I saw that picture, I became nauseous and even threw up. And on the same day, the 11th of March, he was given a new inter-ministerial mission," said Debost.
"And to know that because we stayed silent, didn't do anything, didn't say anything, not only can he pretend to be a defender of women's rights but he gets handed a new mission in a new area with 'new' women who will not have been warned about him, who won't know," she continued.
"I really had the feeling that I had made an enormous mistake in staying silent. And that if I say nothing, all this will continue."
1 in 5 women sexually harassed
It is estimated that in France alone, one out of five women has been sexually harassed at their workplace.
And despite a European directive and a 2012 French law against sexual harassment, only five percent of those who have been harassed will file a complaint.
Debost understands why some people stay silent.
"More than 90 percent of the women who complain about sexual harassment at work are either fired or they resign. And they have a hard time finding a new job," she said.
Euronews' Valerie Zabriskie reported: "How do you define sexual harassment at work? And where do you draw the line between seduction and harassment? Is it a hand on the knee or on the leg? Or a text message saying you look nice in that dress you're wearing? And why is it so hard to prove?"
insiders asked Christophe Dagues, who heads up a French trade union. He has also launched a sexual harassment prevention programme called "Respect."
"For us, the line is very clear between what is seduction and what is sexual harassment. And there can't be any confusion for the harasser between seduction and sexual harassment," said Dagues.
"You can invite an employee to have a coffee after work. Or tell her you find her pretty and that you're attracted to her. But the moment where she shows you she is not interested, stop.
"And if you don't stop, that becomes sexual harassment for the very reason that the employee cannot leave her workplace. She can't stop her relations with other employees, or exclude herself from the collective group and this gives a certain power to the harasser."
Going to court
At the Palace of Justice in Paris, a woman is attempting to prove a sexual harassment case at an appeal court specialised in labour laws.
The alleged victim in question claims that for over a year, she was sexually harassed by her boss, who ran a small company. And she says she was fired after filing a complaint at work.
"There were threats, physical touching, kissing me, asking me to sleep with him," the woman said.
Her lawyer and the head of an association, which helps victims, hope to convince the court to allow – as evidence – recordings of her boss allegedly harassing her.
"Here we have direct proof of sexual harassment. It generally takes place behind closed doors so we rarely have direct proof," said lawyer Maude Beckers.
"Today our goal is to have it recognised, that it's not unfair if a victim records her harasser, because this harassment is a crime.
"She's not violating his intimacy or his personal life. She just wants to prove the facts."
Marilyn Baldeck, from AVFT, the European Association Against Sexual Harassment, added: "Victims are often accused themselves when they go before a tribunal. This woman here is accused of being a manipulator, wanting to take her boss' job.
"She's also accused of not showing any emotion, so therefore she's not credible – since a victim of sexual harassment is supposed to cry non-stop."
After hearing the case, the court decides to hand down its decision in September.
"I relived the meeting with my boss. I relived why I am doing this – the disarray I was in, the loneliness, the terrible solitude in a small company, I had no one to turn to," said the alleged victim.
"I went to see the work doctor, etcetera. They asked me do you have any written proof? I didn't. I had nothing."
For victims of sexual harassment, it's not about the money. It's about justice.
"Overall, judges are not very generous. The most I have obtained for any of my cases was 15,000 euros for sexual aggression, for a women who'd been raped in a cubbyhole at work," said Beckers.
"So it's obvious that victims don't do this because they are venal, even if they're often presented this way, which is completely false. They do this because it's necessary for them to have their employer condemned. It's vital for them."
'My psychological state got worse'
insiders caught up with another woman, who we are calling "Lola" to protect her identity, at a charity race for AVFT, an association against sexual harassment.
She says she was sexually harassed by her manager in a police department.
"He straight out asked me to have sex with him. And he would show me pornographic videos in his office. I looked away but I was shocked," said Lola.
She filed a complaint with the mayor's office, her boss was not condemned.
Lola believes the mayor, up for re-election, did not want to tarnish the municipality's reputation.
"My psychological state got worse. First you have one case that was closed with no follow up – a case with a plethora of documentation, a camera that filmed everything at the municipal police station," she explained.
"Then a second case with no further follow-up. At the same time a disciplinary council cleared the harasser even though he admitted that he'd sent me pornographic videos and that he'd offered me a gun if I had sex with him.
"So he admitted that he had done all this. Yet the disciplinary council decided not to sanction him."
AVFT filed a new complaint after Lola contacted them and a tribunal found the municipality guilty of not protecting her.
She has been awarded 15-thousand euros. The municipality is appealing the ruling.
Live updates from our Insiders team