Enforcing EU laws on sexual harassment
Comments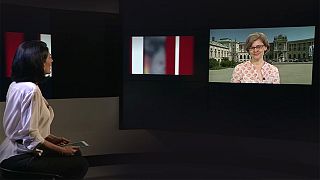 Euronews, Sophie Claudet: In your study, published in 2014, we read that one in two women in the EU have been sexually harassed; and that Sweden and Denmark top the list with 80 and 81 percent of women reporting having been sexually harassed. It goes quite against the perception we have of Scandinavian countries as being quite advanced when it comes to gender parity…
Women were often less willing to speak about experiences of domestic violence to family, to acquaintances, to friends; whereas in Scandinavian countries they're more willing to talk.
Dr Joanne Goodey: When you look at gender equality, when you have heightened levels of gender equality, you also have the expectation that women say that certain behaviours are unacceptable. So when you've had a long period of, say over several years or decades of gender equality in certain countries, women are more willing to speak about their experiences, they're more willing to say certain actions are unacceptable, and they're more willing to report these experiences to an interviewer in a survey. In other countries the experience of sexual harassment is still regarded as a private matter. So, when we looked at the data we found for example in southern, south-eastern Europe countries women were often less willing to speak about experiences of for example, domestic violence to family, to acquaintances, to friends; whereas in Scandinavian countries they were more willing to talk about these experiences – it's something you don't have to hide. So, because of that, women in the survey are more willing to say, 'yes this has happened to me, it's not acceptable.'
Euronews, Sophie Claudet: According to the survey again, the more educated and professionally accomplished a woman is, the more likely she is to be sexually harassed. Why is that?
Joanna Goodey: As women go up through the workplace they maybe working more in typically more male-dominated professions. So, for example, if you're in the business sector or finance or you are going to become a director of a company, you are challenging typical gender roles. You may also be working with more men so there's more risk of violence. If women are working in sectors where you're working with other women, for example in the care professions or working with children; typically a female-dominated sectors of work, you're less exposed to the risk of sexual harassment – also you're not challenging certain gender norms. The more educated you are the more, perhaps, you are aware that certain behaviour is not acceptable. You're less willing, if you like, to put up with certain types of behaviour.
Euronews – Sophie Claudet: How can we stop or reduce sexual harassment?
Joanna Goodey: Ok, laws have been in existence for several years now about gender equality and they do address sexual harassment. But the problem is, if you have a law in place you need to enforce it, you need to make people aware of it. We also have a new convention from the Council of Europe, its called the Istanbul Convention and within that it recognises sexual harassment and several EU countries have ratified, they've signed up to this convention which reflects sexual harassment but you need to educate people about this; education is of course for boys, girls, men and women across the board, employers, many many actors need to be involved to make law, that is in place, actually act in reality.
Live updates from our Insiders team