Greece counts the cost of raising a family amid the financial crisis
Comments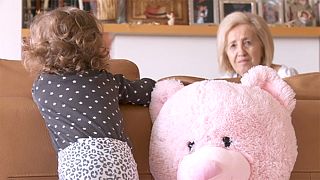 Vassiliki and Kostis got married in 2008, but it was only about a year ago that they had their first child. She holds a managerial post in a private educational organisation, he is a civil engineer, a profession severely hit by Greece's financial crisis.
They are obviously very happy together, so why did it take them so long to start a family.
"When we got married, Greece seemed to be at its peak and my wife had good prospects for a promotion, which indeed happened later. I am a civil engineer, so I was in a sector that was flourishing in Greece until that year. Generally speaking, there was a euphoria at the start of 2008 but that began to fade out," explained Kostis.
"I was at a very good stage professionally and expecting a promotion. It was around then that what we call the Greek crisis started. Also, having a first child is not always easy, so it was a bit of everything, I think," added Vassiliki.
Declining fertility rates is a trend that has been evident in Greece for the past 30 years, made however more obvious after the crisis erupted. Women in Greece are no longer that eager to have children.
"Most women now have children after the age of 33. This leads to a more difficult pregnancy and to a lower number of children. Having a second or a third child right now is a burden on the family," opined obstetrician Dr. Michalis Rotas.
The question is why is this happening in a country that has long held the family as a high value. According to sociologist Stamatis Venetis, cost is the main reason.
"We're not having children in Greece, because the cost of both delivery and bringing them up is huge. In order for young people to afford this, they need a lot of time, as they want to have job security, a decent income, so that they can be sure that they can meet the needs of raising a child," he told Euronews.
The Greek fertility rate is one of the lowest worldwide. Statistics show that the average woman in Greece gives birth to 1.3 children, way below the 2.1 needed for a nation to renew its population.
But this, combined with the increase of life expectancy is steadily turning Greece into a nation of the old. Statistical projections show that by 2050 the 65+ age group will be double than what it was in 2000, representing over 32% of the Greek population.
Trying to face the fact that the pension system is way beyond its viability limits, the Greek government recently passed a new reform bill. Among other changes, pensions were cut once more, while complementary allowances for low pensions were abolished.
Gerasimos can't help but feeling betrayed. Although he worked for more than 40 years, he is receiving peanuts for a pension.
"We have been sent right to the poverty line. Pensions were cut back 12 times and now they are to be reduced again. With all those reductions, I am now receiving 453 euros a month. We have cut back on most of our habits. We live day by day," he pointed out.
Having to cope with a shrinking number of people of working age and a soaring unemployment, Greece's pension system is under grave pressure. According to Alexandra Tragaki, professor of financial demography at Harokopos University who specialises in financial demography, prolonging working life could provide some relief.
"At the moment, there are no changes that could, from a demographic point of view, imminently help relieve the pressure on the pension system. What could be done is to undertake reforms in the labor market, possibly by extending working life or by including people and grey economy jobs that don't currently contribute to the pension scheme," she explained.
While aging Greece is struggling to find a path to growth, its creative minds also face a cruel reality: the chances of finding a job matching their level of studies are rare.
Such is the case with Maria and Harris. They are finishing their postgraduate studies next year, but, having already spent some time abroad, they are looking for their chance to leave.
Maria Charalampaki is a postgraduate student in HR management.
"Greece is a very beautiful country. However Greece at the moment could be destructive for young people. It doesn't provide any prospects, any future. Everything here is a blur," she said while Harris Kotios who is a postgraduate student in financial law added: "It's very difficult for a young person to start off with a monthly wage up to 500 euros and to build a career, so as to hope that after 10 or 15 years of work he or she could make a name in a given sector."
Back at Vassiliki and Kostis's place. Vassiliki's mother has come home to help with Cilia. Grandmothers are a sanctified figure of the Greek family for their help. Still, our couple seems skeptical towards gifting Cilia with a sibling
"One way or the other, having a child is what people aspire to. They think, OK, I'll make it or I understand that I will have to make some sacrifices to raise my child. But when you have two children, things start to get tougher, even for practical reasons," said Kostis.
"It's difficult enough to work if you're a mum. It's even more difficult to work in 2016 Greece. Daily working hours are definitely more than eight, if you want a decent wage that will allow you to offer as much as possible to your child," concluded Vassiliki.
Live updates from our Insiders team