No 'haircut' for Greece as Eurogroup hold bailout talks
Comments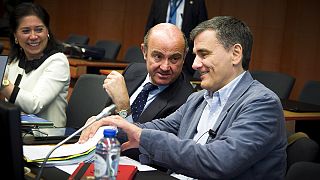 Eurozone finance ministers are meeting in Brussels for their latest round of negotiations over Greece.
They are expected to confirm that Athens has pushed through enough austerity reforms to qualify for up to €11bn in bailout cash. This would mean Greece avoiding defaulting in July on payments of €3.5bn.
What is less clear is what will happen on debt relief. The IMF wants immediate generous debt restructuring for Greece – often talked about as a 'haircut.' European member states – specifically Germany – are opposed to this.
Eurogroup President, Jeroen Dijsselbloem said: "an actual haircut of the loan will not happen, there is no support for that in the Eurogroup. What we can look at is the annual debt burden, so can Greece in an annual basis pay its debt and if not we are ready to help them in the coming years and to take away some of those problems."
The Greek debt is currently € 321 bn, which is 177% of GDP.
For the IMF, partial debt relief is crucial for the Greek economy to survive. The Fund says it won't stay on board as part of the Troika unless that happens. The Eurozone needs the IMF on side so some sort of compromise is expected