American dream? The reality of starting a new life stateside
Comments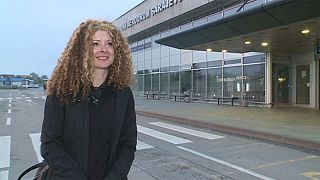 Alma Telibecirevic, from Sarajevo, is looking to live the American dream.
America gave me the opportunity, but you have to be careful what you are doing... It's really hard. You have to learn American life.
After a long wait, over two-and-a-half years in fact, she recently received her immigration visa for the United States.
Alma applied for it when she married her American husband, a man she met while studying in Arizona under a Fullbright scholarship.
Insiders followed Alma as the visa arrived.
"How do you feel opening this envelope and seeing it for the first time?" asked Insiders' Valerie Zabriskie.
"It doesn't feel real. I have to tell you that. I can actually travel now," said Alma.
"It's a feeling of freedom because we had to do so many things along the way and be patient and this is the moment we've been waiting for."
Part of the wait was due to the fact that when Alma did her fellowship, she had to sign a contract with the US state department that she would return to Bosnia for two years to give back to her country.
"How did you start the procedure to emigrate to America? Did you have lots of interviews and background checks?" asked Valerie.
"Background checks, yes, only one interview at the end of the process. Because in the first phase, you send basically all the information about who you are and who my husband is and what we do and things like that. And also proof of our relationship: when we met, how did we start dating," explained Alma.
"It's a very long process and each time they are missing some documents, it takes another 60 days just to review my case again. And they were missing a few documents at every step and I thought this will never end."
Alma grew up in Sarajevo, living in the city throughout its siege from 1992 to 95. Her father was killed during the war.
Yet despite these harsh times, Alma says she never wanted to leave her country.
"The situation immediately after the war was better than now because you had hope. You had something to build on," Alma told Insiders
"And right now is a long period of stagnation. Nothing is happening. Nothing is changing and no one sees how it can be changed."
Bosnians look for new life
Around a quarter of Bosnia's population of four million left during the war and right after.
The conflict ended 20 years ago, but emigration's rising again, according to an association that encourages Bosnians to stay.
Unemployment stands at 42 percent.
In the past two years, 80,000 people left for economic reasons. But very few, if any, headed for America.
Leaving day for Alma
As Alma leaves for Arizona, she also leaves her life in Sarajevo where she studied art and had various jobs in marketing and public relations – the market volatile in the current economic climate.
Alma's also saying goodbye to friends and family.
"I feel a little bit lost. I still haven't understood that I am actually leaving the country," she said.
"Yesterday I was with my friends and it was very emotional. They were crying and all that. I think that after, when I land in Arizona and after a few days I will realise that I moved out from Bosnia. And it's not easy. It's not simple at all."
Alma's journey to Arizona will take over 24 hours, which includes a clearance at customs control.
There she will join her husband in a city home to over a million habitants and a large immigration population.
Bosnians in the US
The Old Town Sarajevo restaurant in Phoenix boasts traditional Bosnian decor and cuisine are the norm.
The owner, Seida Zenic came to Phoenix in 1999 to visit family. She married an American and stayed, even after she divorced.
"I like America for many reasons because here one has a chance to get a good job, a good school for the children," said Zecic.
"Here you feel freedom in America, freedom of life, simply to create the life you want for yourself."
Phoenix has one of the biggest Bosnian communities after St. Louis and Chicago, with many arriving during the 1990s as refugees.
For community member, Adnan, the American dream is possible, but tough.
"I am owner of a company, America gave me the opportunity but you have to be careful what you are doing," he said.
"They give you everything, but they take everything. It's really hard. You have to learn American life."
Learning the American life. This is what Doctor Esad Boskailo did. He came to the US in 1994 after spending over a year in concentration camps during the war https://cronkitenews.azpbs.org/2016/02/18/arizona-has-accepted-tens-of-thousands-of-refugees-from-conflicted-countries-over-the-last-40-years/.
Dr. Boskailo learned English, passed his American medical board and now practices psychiatry in Phoenix.
"When I lost everything, pretty much everything but my life, the US gave me opportunity," he told Insiders
"They didn't give me a gift or something to pay my apartment. They gave me opportunity because I am a person, I am a somebody capable of living because I proved that before in Bosnia.
"I think anybody in this world, anybody, including Syrian refugees, including any other refugee or immigrant,
they just need opportunity either back home or here."
Alma gets down to basics
Getting an opportunity and proving oneself. This is what Alma hopes to do once she settles into her new life in Arizona with her husband Mat Dry. But for now, it's down to basics.
"I have to do my paperwork: my social security number, finish things about my bank account, I will also have to do my driving license," said Alma.
"I know it will take time for me to get to know people, show what I am doing, to make connections. But I am curious about this and I'm looking forward to that."
Alma hopes to get her green card and eventually US citizenship. Something she knows she's lucky to be eligible for, especially in light of a US election year, with immigration a key issue.
There are 350 thousand illegal immigrants in Arizona alone.
"It's not just like that you decide I am not happy with my job and I can apply anywhere," said Alma.
"It's a lot about which country you are coming from and what kind of passport you have that gives you, or doesn't give you opportunities."
Mat adds: "America is the land of immigrants. Unless you were native American you came from somewhere else. So, I personally believe that that philosophy that this is a place where your 'poor, your tired and your hungry can come' should still be the mainstay, main philosophy that we should have.
"I think we should make it as easy as possible for those people that are going to go through the proper methods of becoming a citizen, like Alma did, that it should be as easy as possible, with as few wrinkles as possible."
Live updates from our Insiders team