Radiation continues to 'muddy the waters' in the Sea of Kyiv
Comments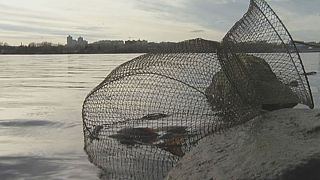 The Sea of Kyiv is a 110-km long water reservoir formed by a large dam in the Dnipro River. It stretches from the outskirts of Kiev all the way to the Pripyat River outlet, in the Exclusion Zone of Chernobyl.
Some residents fear that if the old bulkheads of the dam were to collapse, radioactive water and mud could devastate the area as contaminated components can be found in the mud of the northern part of the artificial lake.
We meet Igor Mahnyov and his son Oleksandr 30 km from Chernobyl.
A top scientist in his field, he invented a floating robot to detect gamma rays in the bottom of the lake.
Igor Mahnyov, senior researcher, National Academy of Sciences of Ukraine: "It's fifty. See? It's higher, even though exposure is 77 seconds, you can see the cesium line on the gamma-ray spectrum."
Fifty electric pulses per second means that there are radioactive sediments, cesium, at the bottom of the lake. The usual level is 10 or 20, as in other parts of the reservoir.
Mahnyov: "If there is any radioactive substance in the water, it gets into fish through water plants and other food. If people eat this fish, they in fact consume radionuclides."
We move to another beach to test the quality of sediments.
Most of the radionuclides are left over from the Chernobyl disaster. But scientists say the river is bringing newly polluted mud from around Chernobyl.
For Igor it is impossible to establish an exact zone of where contamination begins and ends and whether the fish are safe, since they may swim from clear to polluted waters.
Igor Mahnyov: "We've performed measurements in this particular place. And, yes, here it's clean. But if we measure it in some other places, we can find an accumulation of radionuclides."
We head further south to the outskirts of Kiev, near a dam at Vyshgorod.
Here, many people organise picnics, fish and swim during the summer.
Vadim Tsipilov, fisherman: "I don't worry at all about the fish. Because I'm not going to eat them anyway. I do realise what Chernobyl is. And right now, just here, we are downstream."
Live updates from our Insiders team