EU tells big firms to be more transparent on tax
Comments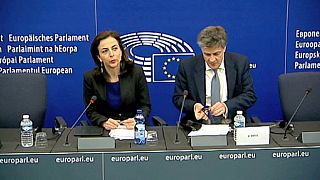 EU regulators have called on major multinationals to be more transparent in their tax dealings.
The European Commission, the bloc's executive arm, has published a proposal that aims to stop companies from shifting their profits around Europe to lower their bills.
The draft law says firms should publicly declare how much they pay and where, including any activities in tax havens.
Officials have been working on the legislation for months, but it is even more significant amid the fallout from the so-called Panama Papers.
"So if large multinationals active in Europe are paying taxes in somewhere like Panama, to take one example, they need to make that public," said Jonathan Hill, the EU commissioner for financial services.
The European Commission's plan will need the backing of EU governments and MEPs to become law.
It will apply to all firms with more than 750 million euros in revenues.
Philippe Lamberts, a Belgian Green MEP, called the draft law "a very minimal step in the right direction."
"It also shows the total lack of courage of the European Commission, and a total lack of responsibility of the member states," he said.
A European Parliament study last year estimated corporate tax avoidance costs the bloc as much as 70 billion euros a year.
EU officials are also pushing for a new Europe-wide list of tax havens.