EU's Moscovici urges tougher action on tax havens
Comments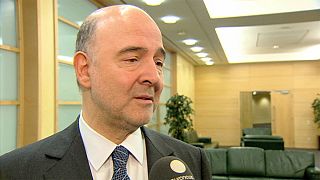 The European Commission on Thursday renewed its vow to tackle global tax avoidance following the publication of the so-called Panama Papers.
It made similar pledges after the Lux Leaks scandal over one year ago.
Pierre Moscovici, the European commissioner for economy and taxation, said the EU should draw up a new, joint list of tax havens and non-cooperative countries.
"I'm struck by the amount concerned, by the jurisdictions concerned, by the persons concerned," he told euronews in an interview.
"When a country is in that kind of list, it already knows that the eyes are on it or her," the former French finance minister added.
The Panama Papers leak has sparked fury worldwide as it emerged that government, business and media figures stashed assets offshore to avoid taxes.
The Lux Leaks scandal concerned major multinationals which had struck favourable deals with the Grand Duchy of Luxembourg to lighten their tax bills.
Last month, EU finance ministers signed off on new rules that
would force large companies to disclose tax information on a country-by-country basis.
But any details would not be declared publicly, but directly to national tax authorities.