Fears for tourism after Brussels attacks
Comments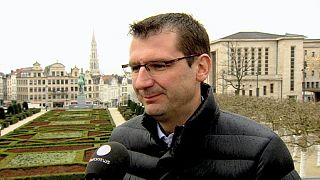 As Brussels reels from attacks on the city's main airport and a metro station, hotel occupancy has fallen by half over the past 10 days, according to local media.
Brussels airport is expected to reopen partially late on Friday or over the weekend, which will help bring tourists back to the city.
Euronews spoke to Patrick Bontinck, the CEO of the tourism body Visit Brussels, to find out how bad the economic impact of the attacks is likely to be.
Euronews:
What's been the impact on tourism from the Brussels attacks so far?
Patrick Bontinck, CEO of the "Visit Brussels" tourism authority.
Our figures show that Brussels is down 50 percent – in terms of hotel occupancy – London is down around 30 percent, Berlin 38 percent and Paris is 35 percent lower. So you can see that all European capitals have been touched by the attacks.
But of course it has a double impact for us because the attacks happened here.
Also, Brussels airport is due to reopen anytime, but with just 30 percent of its usual business. People are struggling to get here (due to the airport being closed), it's quite easy by train. But those who come from afar can not currently land in Brussels.
Euronews:
How important is tourism for the city of Brussels?
Patrick Bontinck:
Tourism as a whole, just for Brussels, is responsible nearly 10 percent of (the city's) GDP and 50,000 jobs depend on it.
Of course we (in Belgium) have contingency in case of unemployment due to the economy but no other special measures have been taken (due to these attacks). The employers' federations are negotiating with the various governments to see how we can get through this period as this season is going to be difficult.
euronews:
So are you worried about tourism to Brussels in the short term?
Patrick Bontinck:
It's very complicated because we can only know with hindsight, but the impact is (likely to be) felt from 6 weeks to 3 months, that's what we observed from Paris.
euronews:
Do you know which tourists have decided to cancel their trip to Brussels?
Patrick Bontinck:
For now it's hard to say because we can not separate who has cancelled because of the airport being closed and who has cancelled because of the attacks.
We can't really measure the impact (right now). We must wait another week. Now that the airport is resuming operations, in the next week we will be able to assess the real impact that the Brussels attacks have had in terms of image.
euronews:
You launched an initiative last November titled "Call Brussels" where tourists could get answers to questions from local residents by phone. Will you launch another similar initiative (after the attacks)?
Patrick Bontinck:
We wanted to do the "Call Brussels" video to give citizens and tourists a chance to show what Brussels was like.
We've haven't decided what to do next. But we want to give the baton to the citizens of Brussels because they showed great resilience to what happened. We want to continue to give them a voice in future communications because ultimately, what makes a city appealing is the people who live there.