No sign Balkan border measures have cut refugee arrivals yet, says UNHCR
Comments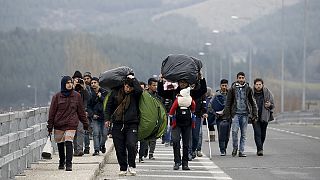 Greece has borne the brunt of the arrivals from the Middle East, with many refugees and migrants making the journey from Turkey in makeshift boats.
Athens has been asking for more EU help and on Wednesday the European Commission announced a new 700-million-euro emergency aid programme designed to help the country with an influx of people.
Euronews correspondent Efi Koutsokosta spoke with the UN Refugee Agency's representative in Athens, Mr. Philippe Leclerc, to his take on what is happening.
Efi Koutsokosta: Mr. Leclerc, you are at the heart of the crisis. How is the situation over there and how dramatically has changed since the closing of the borders in the north?
Philippe Leclerc, UNHCR Representative in Athens:
The situations is indeed a crisis one particularly at the border crossing with the FYROM (Macedonia) where 10.000 people are waiting to cross but the border is closed, only 400 persons have passed the border yesterday. So we are encouraging all Iraqis, Syrians and many other nationalities who are there to go to the centres which are organised by the Greek army and the greek government.
Efi Koutsokosta, Euronews: Do you think that this recent decision to close the borders down the Balkans route can discourage people, refugees and migrants from massively coming to Europe?
Philippe Leclerc, UNHCR Representative in Athens:
For the time being we haven't seen a reduction in the numbers. This may happen the weeks to come. We have to be prepared for the time being to receive a big number of refugees still in Greece and that's why the solidarity measures have been taken by the EU have to be implemented so that people can continue going to other places through an organised way.
Efi Koutsokosta, Euronews: How are the ordinary citizens in Greece responding to this crisis?
Philippe Leclerc, UNHCR Representative in Athens:
The great majority, the reception by the people has been extremely good. There are voices of dissent, there are some mayors who have criticised or are not allowing camps to be established but in the great majority, what we see is solidarity but also a question about the capacity of the government and the UN organisations and NGOs to be able to receive additional people.
Efi Koutsokosta, Euronews: And what do you expect by Monday's meeting between the EU leaders and Turkey?
Philippe Leclerc, UNHCR Representative in Athens: We expect that discussions are taken at the general level which is dealing with the root causes of the conflict and the massive arrivals to the first asylum countries including Turkey and that Turkey and first asylum countries like Lebanon, Jordan, Iraq are assisted not only through financial aid which is extremely important but also through resettlement and that's why UNHCR will be proposing in the future that 10 percent of the Syrian refugee population be resettled and admitted all over the world, not only in the EU member states but from Latin America to Australia.