EU's Schulz slams Hungary's 'populist' migrant referendum
Comments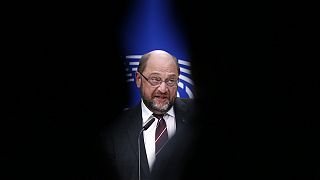 Hungary's decision to hold a referendum on the EU's relocation scheme for refugees and migrants has been branded as 'populist' by the European Parliament president Martin Schulz.
Speaking to euronews' Gregoire Lory, the German politician said that the move by Prime Minister Viktor Orban was a "populist and nationalist response to a global challenge."
EU governments agreed mandatory quotas to redistribute migrants and refugees back in September, despite vocal opposition from central and eastern European countries such as Hungary.
Orban later filed a court challenge in December, along with the government of Slovakia.
But Schulz, who heads the European Parliament, criticised Orban's decision.
"The actual figure for Hungary is around 1,300 refugees. It's 1,300 and because he says 'that's too many. we cannot accept that. I'm holding a referendum', he said. "It's a populist and nationalist response to a global challenge."
"There are 508 million people living across 28 member states of the EU. If you share one million refugees amongst 508 million, that's no problem.
"It's only in one, two or three countries where it is an issue," added Schulz. "I think it is cynical of those who refuse to take part in relocation then create problems for other countries. Then they criticise Europe for being incapable of soliving this problem. This has never happened in European politics."
The EU has been been divided on how to handle the influx of refugees and migrants to its shores.
On Wednesday, Austria held its own mini summit in Vienna with countries from the western Balkans to discuss possible next steps.
Greece was not invited, sparking Athens' decision to recall its ambassador to Austria.
Over 100,000 migrants have arrived in Greece and Italy since the start of the year, according the International Organization for Migration.
The same body says more than one million arrived in Europe by irregular means in 2015, making it the continent's worst refugee crisis since World War Two.