Migrant crisis: EU-Turkey summit planned to beef up action
Comments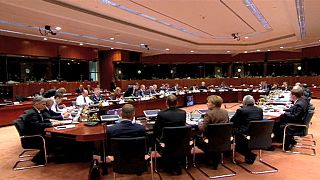 There have been renewed clashes over Europe's handling of the migrant crisis as leaders met late into the night in Brussels.
The end result: a special summit with Turkey early next month to beef up a joint action plan to stem the influx.
It is good news for German Chancellor Angela Merkel, as it will come before her party faces regional elections.
"We want to intensify and improve the readmission agreement between Greece and Turkey, which was very cumbersome until now," said Merkel.
"And, when the number of illegal migrants can be substantially reduced, we will consider a relocation programme from Turkey to the EU, on a voluntary basis."
Germany, which took in over one million migrants last year, has led efforts to offer money and a promise to revive Turkey's long-stalled EU accession talks to get Ankara to prevent more people setting off from its shores for Europe.
But many doubt the plan will work and have pushed towards beefing up border controls along the migration routes.
Austria is insisting on capping the number of migrants it takes in, stoking the fire further.
It is a move that has been branded as "plainly incompatible" with international law. Some EU officials described it as tantamount to "giving the finger to the rest of Europe."
Defending the move, Austrian Chancellor Werner Faymann said: "As Austrian Chancellor, I have to consider the Europe solution – which is a fair distribution – as well as Austrian interests, which are that we can't carry the burden alone."
EU leaders affirmed at their Brussels summit that there was no alternative to a common European approach to the migration wave that has exposed deep differences in the EU.
There has also been tough talk from Italian Prime Minister Matteo Renzi. He has apparently warned Eastern European leaders – some of the staunchest critics of EU plans – that they could have development money cut if they do not help solve the migrant crisis.