Cologne kicks over carnival season amid security fears
Comments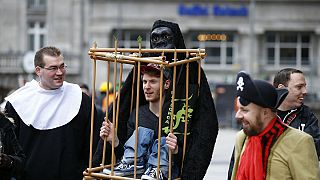 Cologne entered full party mode on Thursday as police stepped security following a series of robberies and sexual assaults on women over one month ago.
An extra 2,500 police officers have been drafted in after the shocking events that took place on New Year's Eve in the northwestern German city.
Wolfgang Baldes, a Cologne police spokesman, told euronews that this was "double what we had last year."
"We are observing the crowd with video-equipped vehicles from high vantage points," he said. "We are well prepared."
More than 900 people filed complaints with local police about those alleged crimes; half of those involved sexual violence.
Prosecutors have opened criminal proceedings against 50 people. Several of the suspects are asylum-seekers, which has sparked a fierce debate about Chancellor Angela Merkel's asylum policy.
Germany's ARD television published a poll on Thursday found 18 percent of those surveyed believe the German government has the crisis under control.
Euronews correspondent Sandor Zsiros reports that Cologne police were not taking any chances as officers stepped up security across the city.