Bid to stop Zeebrugge becoming migrant magnet
Comments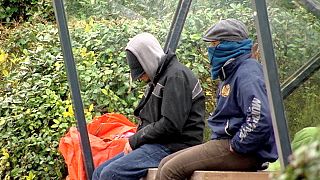 Belgian police are cracking down on migrants arriving in Zeebrugge, with more than 450 people reportedly stopped in the port area over the past month.
Some migrants are heading to the Belgian coast, to try and smuggle themselves on ferries bound for Britain.
But police do not want to see a repeat of the Calais situation in Zeebrugge.
"Me go to England. England my uncle, my cousin will help me. Here no. But Belgium very good, people very very good, help me for water for food," one man told euronews reporter Olaf Bruns.
Many migrants turning up in Zeebrugge are taking shelter in and around the Stella Maris church, with locals doing all they can to support them.
But, controversially, one official has said that food should not be given out – much to the disgust of a local priest.
"At the Belgian border, it's forbidden to feed sea gulls because there are too many of them. But these people are in a difficult situation. You have to give them food," said Fernand Maréchal, Priest of Zeebrugge.
"It's irresponsible to leave them to starve. If we don't feed them, they will search for food and commit burglaries."
Zeebrugge is part of the city of Bruge, where the mayor is also wading into the debate.
He thinks many migrants are not genuine asylum seekers, but rather fortune seekers, exploited by traffickers.
"We have really the impression it's the first group, that comes to look what is possible in Belgium – and the message is: Belgium is not France," said Renaat Landuyt, Mayor of Bruge.
But with tough conditions in Calais – the traditional port of choice for people wanting to get to the UK – it seems Zeebrugge is now becoming a magnet for migrants.