UK-EU talks: Donald Tusk to lay out new reform proposals
Comments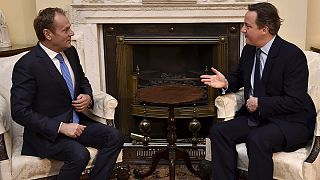 President of the European Council Donald Tusk says he will present a proposal for a "new settlement" between the UK and the European Union on Tuesday, February 2.
He spent Monday with British Prime Minister David Cameron trying to thrash out an agreement on reforms to help keep the UK in the 28-nation bloc. They had earlier failed to secure an understanding that could be put to the British in a referendum.
Tomorrow around noon I will table proposal for a new settlement for #UKinEU. Good progress last 24 hours but still outstanding issues

— Donald Tusk (@eucopresident) February 1, 2016
However, even when an accord is reached members states will expect to have their say. Speaking in Brussels Commission spokesperson Margaritis Schinas said: "It is not enough for the Commission and the Council lawyers to agree, this is a process that is run at 28, and the Commission works for all 28 member states of the union."
UK's key demands
David Cameron has put his case to both Council President Donald Tusk and Commission President Jean-Claude Juncker. The British leader is demanding changes in four key areas, including Britain's right to opt out of any drive within the EU to closer political integration.
Boosting sovereignty
Boosting sovereignty of member states so national parliaments could block EU legislation is another demand. The UK wants to be able to veto directives that it deems to be against its interest.
Assurances for non-eurozone economies
Cameron's also seeking assurances for non-eurozone economies so that Britain is not disadvantaged by single currency decisions, or expected to contribute to eurozone bailouts.
Social benefits
One of the biggest sticking points is access to social benefits. Britain wants EU nationals to be entitled to these only after four years of residency.
As talks continue the clock is ticking. All sides say its essential to hammer out a deal ahead of a key summit on February 18 and 19.