Tory MEPs split on Cameron's EU reform bid
Comments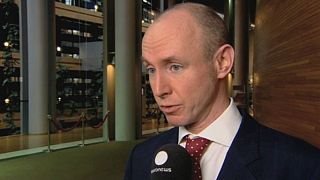 British Prime Minister David Cameron hopes to secure a deal on EU reform next month.
Amongst his demands: tighter rules on EU migrants claiming welfare and safeguards against the eurozone countries imposing rules on those outside the single currency.
Cameron also wants the EU to abandon its commitment to ever-closer union and a pledge to boost competitive.
His Conservative party is split at home and in Brussels -because there's nothing Britain's conservatives like more than a good slugging match over Europe.
"I'll be campaigning to leave the European Union. I think that the reforms don't fundamentally alter Britain's relationship with the EU," said Daniel Hannan, a leading Tory eurosceptic.
"I would have liked us to have had a free-trade, not a political relationship with the EU."
Any changes will be put to the British people in a referendum on the UK's EU membership.
One Tory MEP has already made up his mind, even before the final negotiations have started.
"I see value added in the UK remaining a member of the EU – it's not just the economics or the single market, or the trade agreement," said Charles Tannock, who is the Conservatives' foreign spokesperson in the European Parliament.
"But (it is) also the wider issue of Britain's role in the world, and foreign policy, security, defence policy, in fighting global treats like climate change but also international terrorism."
The referendum must take place before the end of year, according to a law passed by Britain's parliament last year.
Some Tory MEPs are holding out to see what kind of deal Cameron can cut with his EU counterparts.
"It is more important to get the deal right, then to do it quickly! We've said that we were hold a referendum before the end of 2017, and if it takes two years to get the right deal, than it takes two years," said Ashley Fox, who represents south-west England and Gibraltar.
Party insiders, however, widely expect the vote to take place in the summer.
Prime Minister David Cameron has a lot riding on his renegotiation. Tory bickering over Europe has led to the ousting of many of his predecessors as Conservative leader.