Syrian negotiator still waiting for Geneva talks invitation
Comments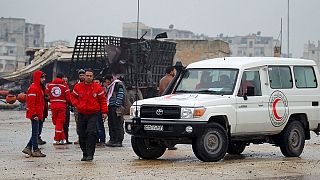 The group representing the Syrian opposition is still waiting for an invitation to planned peace talks in Geneva later this month, its chief negotiator told euronews in an interview recorded on Thursday.
Mr Riyadh Hijab of the High Negotiations Commission was in Brussels to meet with EU foreign policy chief Federica Mogherini.
Efforts to broker a political solution to the five-year Syrian conflict resume in Switzerland on January 25th.
But speaking to euronews correspondent Charles Salamé, Hijab said that "the High Negotiations Commission has, at present, not been invited to the talks. We don't know whether we will be at the negotiations."
"But Russia and the regime say the talks are about forming a unity government. Russia and the regime refuse to discuss the fate of Bashar al-Assad," he said, adding the opposition's aim was to achieve "a real political transition in Syria."
Representatives from the United States, Russia and other major powers will be in the Swiss city in ten days time.
But Syrian rebel groups said on Wednesday they would not take part in the peace talks unless humanitarian articles in the latest U.N. resolution on the conflict were implemented.
Opposition groups also want the siege of Madaya to be lifted before they sit down with Syrian government officials amid reports that locals there are dying of starvation.
U.N. Secretary-General Ban Ki-moon said on Thursday that Syria's warring parties, particularly the government, were committing "atrocious acts" and "unconscionable abuses" against civilians.
"Let me be clear: the use of starvation as a weapon of war is a war crime," Ban told reporters in New York.