IOM warns of tensions at Greek-Macedonian border
Comments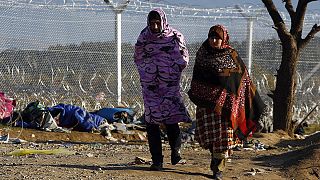 The International Organisation for Migration says the situation at the Greek-Macedonian border is becoming extremely tense as thousands of migrants and refugees remain stuck there.
The Geneva-based body said on Friday that no-one has crossed into Macedonia since Wednesday when some 4,000 people from Syria, Iraq and Afghanistan were allowed to pass.
In a statement released on its website, it said that "IOM and NGOs have been advised to stay out of the Idomeni border transit camp for security reasons, but are ready to resume activities there as soon as it is deemed safe. Facilities in the camp have been damaged due to the rioting."
Nationals from other countries are being held back, sparking angry protests.
It comes one day after Greece asked for more EU assistance to manage the flow of people arriving on its shores.
Guard from the EU's border agency will help with registration checks at the country's northern border, whilst Athens will also receive tents, generators,and other important supplies.
Greece had been put under pressure to make the request.
Diplomats in Brussels were briefing that the country could be kicked out of the EU's passport-free travel zone, known as Schengen, if it did not do so.