Domestic workers: debunking the myths
Comments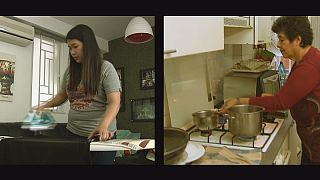 Often vulnerable and exploited, domestic workers around the world have long faced discrimination, low wages, extremely long hours and poor working conditions.
For years policymakers have maintained that it would be impossible to change the status quo. That employers cannot afford to pay their cleaners, cooks, maids and babysitters a minimum wage, and that, isolated as they are, domestic workers would never be able to form a union.
But since the International Labour Organisation adopted the Domestic Workers Convention in 2011 there has been a sea change in attitudes.
The first European country to ratify the convention, Italy is one of the few places where workers AND employers have formed organisations and have the right to bargain collectively.
Sara Gomez is the spokesperson for the FILCAMS union in Rome.
She said joining a union gives individual domestic workers a louder voice: "I can say that I met workers who, when they took the membership card to the trade union, they cried because they felt they were recognised as part of something and this gave them strength."
Yet FILCAMS' is still fighting for equality. Unlike most people in Italy, domestic workers don't have the right to more than 15 days consecutive sick leave, even though their work can be gruelling at times.
And there is also work to be done on incapacity benefits.
Evelyn Villalta arrived from Guatamala 17 years ago and has been working for Doctor Carlo ever since. She has developed a painful foot condition and – along with the union – is fighting for the right to take early retirement on health grounds.
She said she was shocked when she learnt her occupational injury may lead to serious disability: "I am a very active person, I like to be on the go, to work not only in order to earn money but really because I like to work. And at the moment when I heard that (about my injury), for me it was as if my life was ending."
Italy is one of the few countries with an employers' association, founded as a result of the historically strong workers' unions.
DOMINA helps families with the bureaucratic formalities of employing a carer or cleaner; drawing up the contract and making sure all the correct contributions are paid. Clearly it simplifies things for families but it also means both sides agree on satisfactory terms and conditions.
Massimo de Luca is the legal consultant at DOMINA. He said: "The biggest work for DOMINA in this historical period is to create a culture for domestic work in Italy. Italy was the first country to sign the ILO (International Labour Organisation) convention in Europe and this has been possible thanks to the work done by us together with the trade unions. It has been possible because Italy has worked for years in the field of domestic work in order to change domestic work into a dignified activity for the worker and affordable for the employer."
Domestic workers enjoy minimum wage coverage in at least 60 countries worldwide although in some places it is lower than that earned by other workers.
In France, Italy, Austria, Belgium and in the canton of Geneva, the Chèque service scheme and similar schemes have proved it is perfectly possible to provide workers with social security benefits. In 2014, 44 million Swiss francs in gross salaries were managed by Chèque service, and nine million Swiss francs were paid into various social insurance schemes.
Anne Babel is head of Chèque service. She said: "The benefits for an employee are the welfare payments. So whatever their country of origin or their situation in Switzerland, the person will benefit from welfare payments, so he or she will have life insurance, and have the right to claim family allowance, maternity benefit, unemployment benefit, well except for those people who are in an illegal situation, of course not, but maternity, accident insurance that we offer in the Chèque service package."
However it is thought only a third of domestic workers are hired via Chèque service. Anne admits there are still unscrupulous employers but said the situation is improving.
"I think that even so there are a number of employers who want to be in line with the law, to provide welfare payments. Then – and this is also where the Chèque service scheme comes in – we guarantee a certain transparency regarding work relations – rights and responsibilities must be explained. We are also very, very vigilant regarding the Chèque service package, and this is perhaps the only penalty – we won't have employers benefit from it if they don't pay the minimum wage, which is legal."
In Hong Kong stories of abuse of domestic workers have made the headlines in recent years but for locals, at least, conditions are improving. This is due, in part, to an innovative training centre, set up with government funding, called the Hong Kong Confederation of Trade Unions Training Centre.
Here, local domestic workers receive quality training in post natal care, household management, environmentally friendly cleaning and so on, and – after they graduate – can apply for posts through the centre's job referral programme. All of these posts attract a decent wage – sometimes higher than the minimum wage.
Registered nurse Mary Wong is teaching students about post-natal care. She said: "A lot of the people in Hong Kong who employ domestic helpers, they want them to be able to take care of new born babies, small babies, and very old people because it takes a lot of care and attention, if they are not careful they can cause a lot of accidents."
Student Fiona Leung used to work in a bank but hopes this course will be the beginning of a new career for her: "After I have been trained in the centre, when I have experience, I can find a job like this as a domestic helper to take care of the new babies. In fact in Hong Kong this profession will have a better future so I wish to have a long term development in this career."
But the scheme is only open to local domestic workers, not migrants, who still work under draconian conditions – including the live-in rule, which means a worker must live with her employer.
Vice chairperson of the FADWU union Shiella Estrada explained the abuses it can lead to: "When they come back they still need us to open the door, if they want to drink some tea or drink something then they will just knock on our doors and say we need to prepare something for them and this is 24 hours on call."
Chatting and eating together on their one day off a week, stories abound among the migrant domestic workers of Hong Kong of ill treatment – workers forced to sleep in the kitchen or on top of the washing machine, of too little food, of rip-off agency fees.
Domestic worker Diana Juanillo outlines a typical day: "Cleaning, car washing, going to the market, cooking, laundry, ironing, all of it, all of it inside the home for 18 hours, I need to serve them three times a day for their meals and they were not stay out so I need to be more patient for them."
Yet despite the hardships there is a network of support on these streets.
And although there is still much to be done, changing people's mindsets is the first step and this is happening, with tangible benefits for tens of thousands of women and men.