ICTY: The trials and tribulations of international justice
Comments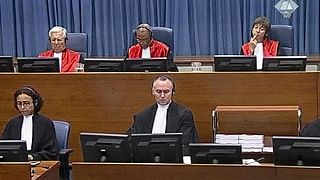 Since 1993 the International Criminal Tribunal of the former Yugoslavia in the Hague has sought to bring to justice perpetrators of atrocities during the Balkans wars. Its mission is now winding down and will come to an end with the conclusion of the case of ex-Bosnian Serb general Ratko Mladic.
In this edition of Reporter Valerie Zabriskie looks at the Court's history, legacy and effectiveness as a dispenser of justice for Europe's bloodiest mass crimes since WWII.
The region and its peoples remain deeply affected by the conflicts that marked the break-up of the ex-communist state. Some of the relatives of the war criminals' victims feel the Hague process alone could never heal their wounds. "As long as those who committed genocide won't admit it – and today there is still this denial – as long as they won't ask for forgiveness, and they won't apologise, we can't forgive them," one woman who lost 56 family members tells Euronews.
The ICTY was the first international tribunal since the Nuremberg trials and those administering it faced monumental challenges. "We speak about more than one million pages of documents in relation to the conflict, said its chief prosecuter Serge Brammertz.
"So the point I want to make is, well, it takes time. But I think the role of an international tribunal is not just to get a conviction as quickly as possible but also to show the magnitude of the crimes committed and to give a forum for victims and survivors to tell their story," he told Zabriskie.
In the end the Tribunal's decisions were not without controversy, as we find out in Reporter.
Click on the video to see the story in full.