Lesbos struggles to provide enough shelter for continuing flow of migrants
Comments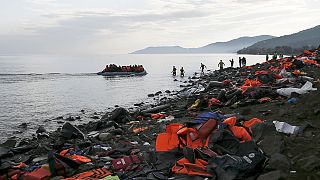 As European and African leaders debate ways of tackling the migrant crisis, the Greek island of Lesbos remains overwhelmed with people searching for a better life.
You do not have to look far along its shores to see evidence of the influx of people fleeing war and poverty at home. Parts of the Lesbos coast are littered with life visits and dinghies, abandoned by those arriving.
The UN says nearly 650-thousand people have reached Greece by sea this year, with more than half of them coming to Lesbos.
In October alone, over 210-thousand migrants arrived on the island. Many are crammed into a so-called "hotspot" camp.
Suhad, who is from Iraq, said: "We want to see life. In Iraq we don't see life. We want to live in a democracy. In Iraq we have no democracy. In Iraq there's nothing that you can live in."
Life is tough for the migrants on Lesbos and the huge influx is presenting the authorities with lots of challenges too.
"Many people, especially children and families with problems, search for an environment that satisfies their basic needs, to also get some rest," said Athanasios Papathemelis, manager of the Moria 'hot spot.'
"They have been on unbelievable journeys in circumstances that are inhuman, beyond any imagination."
Sandra Hadjisava, a UNHCR field officer, added: "Some of the challenges that we're facing here are mostly with shelter.
"You know, you can't always predict the influx and the numbers of people that are going to be arriving. So, often it is difficult to find a place for them to stay, while they wait for registration."
Many migrants do not stay on Lesbos for long – maybe a few days – before they take a ship to the Greek mainland. Some then head further into Europe.