Jordan's refugee burden: a costly solidarity
Comments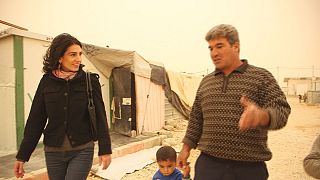 From an early stage in the Syrian war, Jordan has been a refuge for people fleeing the ever-intensifying fighting. By now, some 1.4 million of refugees have fled across the border into the kingdom where they are given accommodation and humanitarian support by the Jordanian government and UN agencies.
We would like to leave here, but this is not possible. It takes money; we need to rent a house, we need to find work, but there is no work outside the camp
Living in basic conditions and traumatised by their experiences of war, life is extremely hard for the refugees. But Jordan and its people are also paying a high price, with the mass influx of refugees placing an enormous economic burden on the country's finances It is estimated a quarter of the national budget has been consumed by the refugee crisis. The international community is providing funding, but its contributions fall short of the spiralling costs.
As the economic pressure mounts so too does social tension, it seems. Jordan has a long tradition of hosting refugees from conflicts in the region but Syrians now make up around 20% of its population.
The Jordanian leadership says the nation is at breaking point and that it cannot host any more refugees, no matter how much it wants to.
In this edition of Reporter Sophie Claudet travels to the Zaatari refugee camp near the Syrian border to hear the stories of those who have fled the war. She also gauges the mood among Jordanians in the nearby town of Mafraq, the chosen location of many thousands of refugees.
It is already an area of high unemployment and poverty and the presence of so many additional desperate people is putting extreme pressure on education and healthcare resources, not to mention its weakened job market.
Click on the video to see the report in full.